---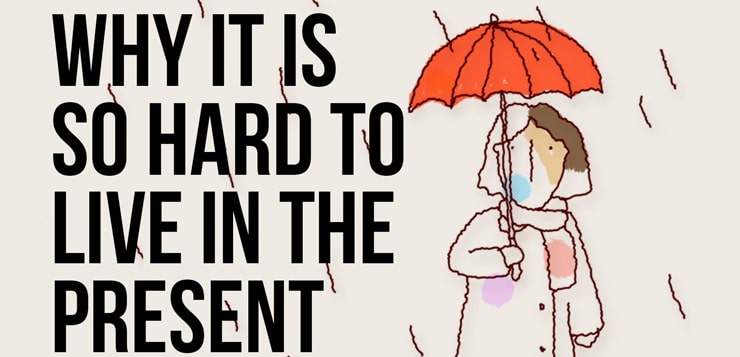 Why is it so difficult to properly enjoy what's right in front of us? And why are so many events easier to enjoy or savor
after
they've happened? In this animation from
The London School of Life
, philosopher Alain de Botton talks about why we have trouble staying anchored in the present moment, and the role memory and mind wandering play.
...more

Kathleen Notes: An easy, 4 minute explanation of why it`s tough to stay in the moment. Worth your time!
---
It's official. I cannot be trusted. Left to my own desires I am a selfish human being, self-seeking with impure motives. This is why I love God's Word so much. I don't have to rely on my opinions or feelings to guide me. After all, my likes and dislikes change with the wind. As much as I claim the authority in my home, there is a higher authority to which I am called to submit. Holding an opinion higher than God's opinion--wasn't that the real sin in the Garden? God told Adam and Eve that they were good, but being a good creation wasn't enough. They had to be like God…or better yet, BE God and decide what right and wrong was in their own eyes. They wished what God said wasn't the final say in the matter. Satan raised a doubt about the intent of God's words in order to question the very motives of God.....
.....And a critical task of parenting is teaching our children to know who they are in God`s good world. How do I establish Scripture as final authority for my children?
...more

Kathleen Notes: Thank God (quite literally!) that He has given us His Word to guide us in all areas of our lives: relationships, marriage, parenting and many more.
---
Here in the Northern hemisphere, the last weeks of summer are already upon us, and the new school year is right around the corner. Whether you can't wait till your kids are back in school or dread the more regimented days ahead, there's one thing you can count on: Back to School is always a big transition.
Kids who are starting school for the first time or moving to a new school have to cope with the biggest adjustment, but even moving up a grade means facing more academic demands, a new teacher, and a changing social circle. The good news is that a little bit of preparation and forethought--a very little bit, so you can enjoy these last weeks of summer!--can make those first weeks of school easier for your kids – and yourself.
Here's how:
...more

Kathleen Notes: I remember being a bit stressed at the beginning of each school year because everyone reminded me that "this year is when the work gets harder." What no one ever pointed out is that I was prepared for it! Think about how you can prepare and encourage your kiddos as they begin this new school year.
---
There will always be some element of second-guessing my feelings and emotions, but I have worked hard to learn how to separate "chemistry" from "context." Say a dinner I made isn't appreciated the way I think it should be. Rather than vowing never to cook again, I take a step back and listen to my self-talk.
It helps to name my emotional state: "I am angry." (Hmm, that's interesting. What else are you?) "I am anxious." (Hmm, and this too will pass.) "I am irritated." (Hmm, please be more specific.)
There are other useful tools: taking a centering breath, writing thoughts in a journal rather than expressing them aloud and considering gratitude.
...more

Kathleen Notes: Because Bipolar is a disorder of mood, it`s always important to be aware of where your moods are at. But I think this information applies to all of us because we all come into this world with a complete set of emotions!
---
Drama Triangles are possible in any relationship, but they are more common in close relationships including those with romantic partners, family, and co-workers. Whether you're fighting with your significant other over who should take the garbage out or you're frustrated that you have to fix your annoying co-worker's mistake — yet again — each of us plays a part in the Drama Triangle dance.
Even though conflict is inevitable, getting stuck in the triangle doesn't have to be. If you want healthier, happier relationships, then it's critical to learn how to communicate and solve problems effectively — without mean or harmful behavior.
...more

Kathleen Notes: Ooooh,....drama. If you`ve been alive for more than a few years, you`ve experienced this. Here`s how to recognize, avoid and help resolve the drama in a more loving way.
---
In fact, I googled why wives leave their husbands. Here are the most common reasons I found.
I just don`t love him anymore.
I`m the only one that does any work in this relationship.
He just takes me for granted.
He never listens to me.
His apologies are hollow and mean nothing.
I just don`t connect with him emotionally like I used to.
I feel like I`ve outgrown him.
I don`t deserve to live with disappointment day in and day out
.
What if we said those things about our children? Reread the list with your children in mind. How does it sound?
...more

Kathleen Notes: Brilliant and so true...
---
When you are triggered, the emotional part of your brain takes over. You are flooded with adrenaline and cortisol, the same neurotransmitters and hormones that have evolutionarily protected us from threats like bear attacks (freeze, fight, or flight). Your logical brain temporarily shuts down, and you lose the ability to solve problems, make decisions, and think rationally.
When this happens, you have been emotionally hijacked, and it is difficult to see things as they really are. You go into protection mode, and until the perceived threat or trigger has dissipated, you will remain there. Over time these reactions can lead to acute anxiety, depression, irritability, fatigue, and other health problems from heart disease to lowered immune response.
...more

Kathleen Notes: To know how to repond your emotions (instead of react!) you have to be able to name them and know how they work.
---
Today's kids sit more than ever. Babies spend hours confined in car seats and carriers rather than crawling, toddling, or being carried. As they get older their days are often heavily scheduled between educational activities and organized events. Children have 25 percent less time for free play than they did a generation ago, and that's before factoring in distractions like TV or video games.
Left to their own devices, children move. They hold hands and whirl in a circle till they fall down laughing. They beg to take part in interesting tasks with adults. They want to face challenges and try again after making mistakes. They climb, dig, and run. When they're tired they like to be rocked or snuggled. Stifling these full body needs actually impairs their ability to learn.
...more

Kathleen Notes: More time spent on academics is NOT the answer! Children learn better, with less frustration and better focus when they get time to run and play. In addition, there is a great deal to be learned while exploring, socializing and problem solving when playing (a child`s natural work).
---
If a new prisoner couldn't learn the code and communicate with fellow Americans within 30 days of his arrival, he would gradually start to draw inward and deteriorate. The prisoner would slowly lose the will to live. He would stop eating, and as his stomach became bloated, he would actually start to feel "fat." Little by little, the prisoner would die alone as the strange predator, isolation, sucked his very life out of him.
At first glance, the horrors of the Hanoi Hilton seem unrelated to a marriage relationship. But in a very real way, communication is essential to the life of a marriage, just as it was essential to the lives of the prisoners. If you don't communicate, your marriage will die.
Good, open communication is the top need in marriage. Nothing is as easy as talking; nothing is as difficult as communicating. Using words correctly and skillfully is an important part of communication, but even more important is that both husband and wife have a willingness to communicate in ways that result in deeper honesty and openness.
...more

Kathleen Notes: Communication has to do with vulnerability. If that is difficult for you, it`s imperative to find out why and how to improve the situation. Marriage and family therapy can make a significant difference.
---
Each week I will collect and reflect on 5 to 10 relevant articles about important topics like parenting, marriage, relationships, and families. Within these topics I will address the challenges and joys, struggles and solutions from a Positive and Strengths-based approach. I am a strong believer in the power of relationships to grow, nurture and heal the human mind and spirit. I hope you find one or two of these articles useful for your practice, classroom or household. My opinions are open to discussion and even disagreement, as they are intended to facilitate the sharing of multiple thoughts and ideas! This publication is offered by In the Moment Child and Family Therapy, LLC, a Ministry of Resurrection Lutheran Church (WELS) in Verona, Wisconsin.
I would really enjoy hearing your feedback if you care to give it at Kathleen@inthemomenttherapy.com
...more
Sharing of this publication is encouraged so if you have a friend/relative/coworker who might enjoy it, feel free to forward them or encourage them to subscribe!